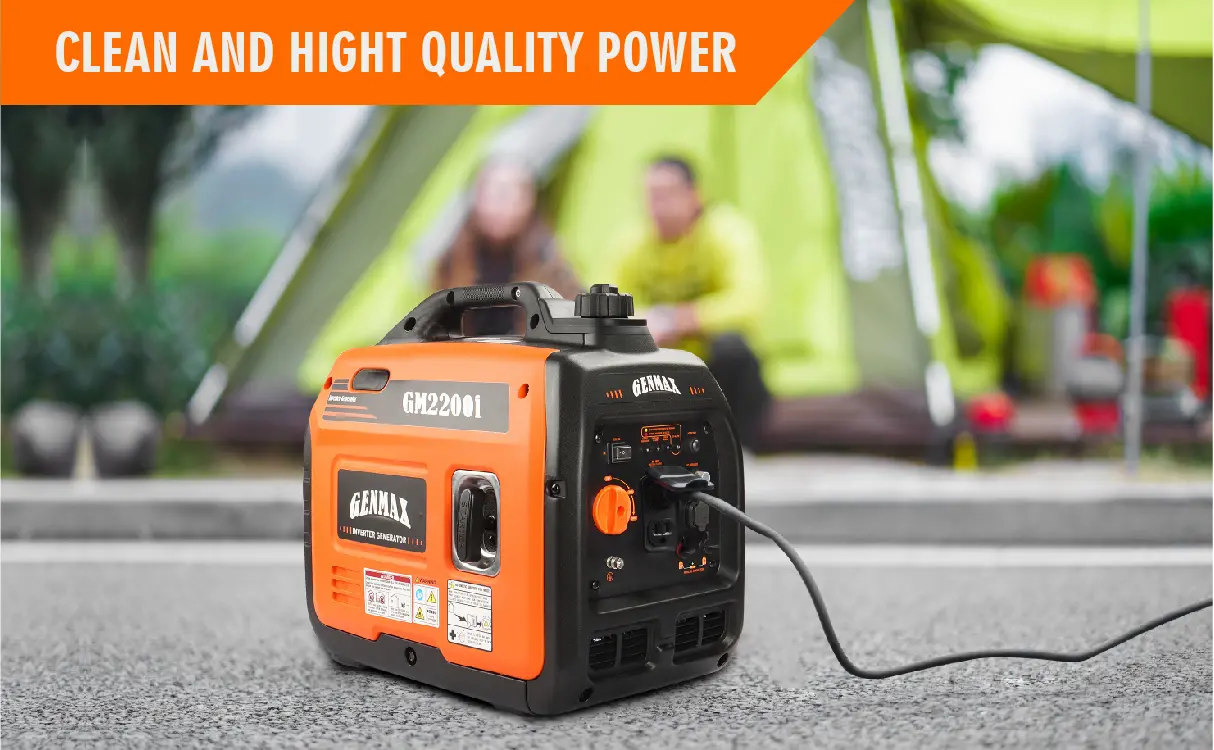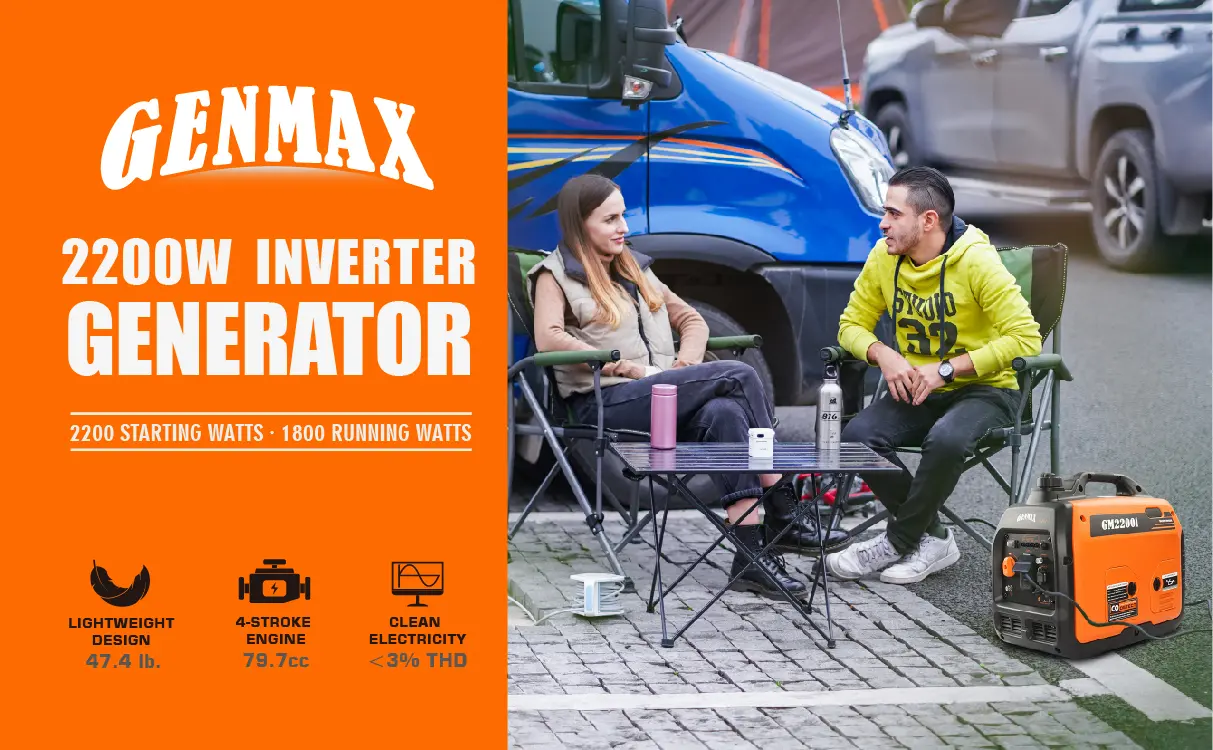 The GM2200i inverter generator provides outdoor sports enthusiasts with a portable power solution designed for various outdoor celebrations. From weekends in the woods to outdoor picnics and parties, this model can provide the stable power you need without disturbing neighbors or surrounding wildlife.It also has a CO detection alarm function.

2200-WATT PORTABLE INVERTER GENERATOR
Bring power to your home during a power outage or recreational activities Using gasoline,the79.7cc champion engine produces 2200 starting watts and 1800 running watts,and will run up to 10.5 hours at 25% load when the 1.1 gallon tank of gasoline is full.
With Clean Power (<3% THD) ,a low oil shut-off sensor and a 0.4-quart oil capacity,this inverter's Smart Economy Mode can reduce the electrical load,provide quieter operation,extended engine life and better fuel economy.
The power panel includes low oil alarm,overload alarm, and output indicator features"Eco mode" for conserving energy and maximum fuel efficiency,two 120V/20A outlets,one USB Duplex: 5V DC that come in 1 amps and 2.1 amps.
● Starting Wattage: 2200W
● Running Wattage: 1800W
● Engine: 4-stroke 79.7cc OHV
● Fuel Tank: 1.1 Gallon
● Run Time: Up to 10.5 hr
● Product Dimensions: 18.9" x 11.5 " x 17.3"
● Included Items: Oil funnel, User manual, Spark plug sleeve, Screwdriver
About GENMAX
GENMAX is a research,production and sales technology company with more than a decade of experience designing and manufacturing reliable and durable power supplies for the North American and world markets, and GENMAX generators are you best choice for home, work, entertainment, or preparing for natural disasters, GENMAX products are the standard of performance excellence.
Control Panel

The power panel includes low oil alarm , overload alarm , and output indicatorfeatures "Eco mode" for conserving energy and maximum fuel efficiency,two 120V / 20A outlets,one USB Duplex: 5V DC that come in 1 amps and 2.1 amps.

Parallel Ready

The optional parallel kit (sold separately) enables this inverter to connect with another 2200-watt or higher GENMAX inverter to double your output power.

Clean Electricity

The generators built-in AC wall outlet uses a pure sine wave inverter will generate clean, stable electricity(<3% THD) . To ensure the power output is just as good as what you get at home. Make your devices more stable and ideal for sensitive electronics such as computers, televisions, and mobile phones.

What Comes In The Box

User Manual(1)

Oil Funnel(1)

Spark Plug Sleeve(1)

Screwdriver(1)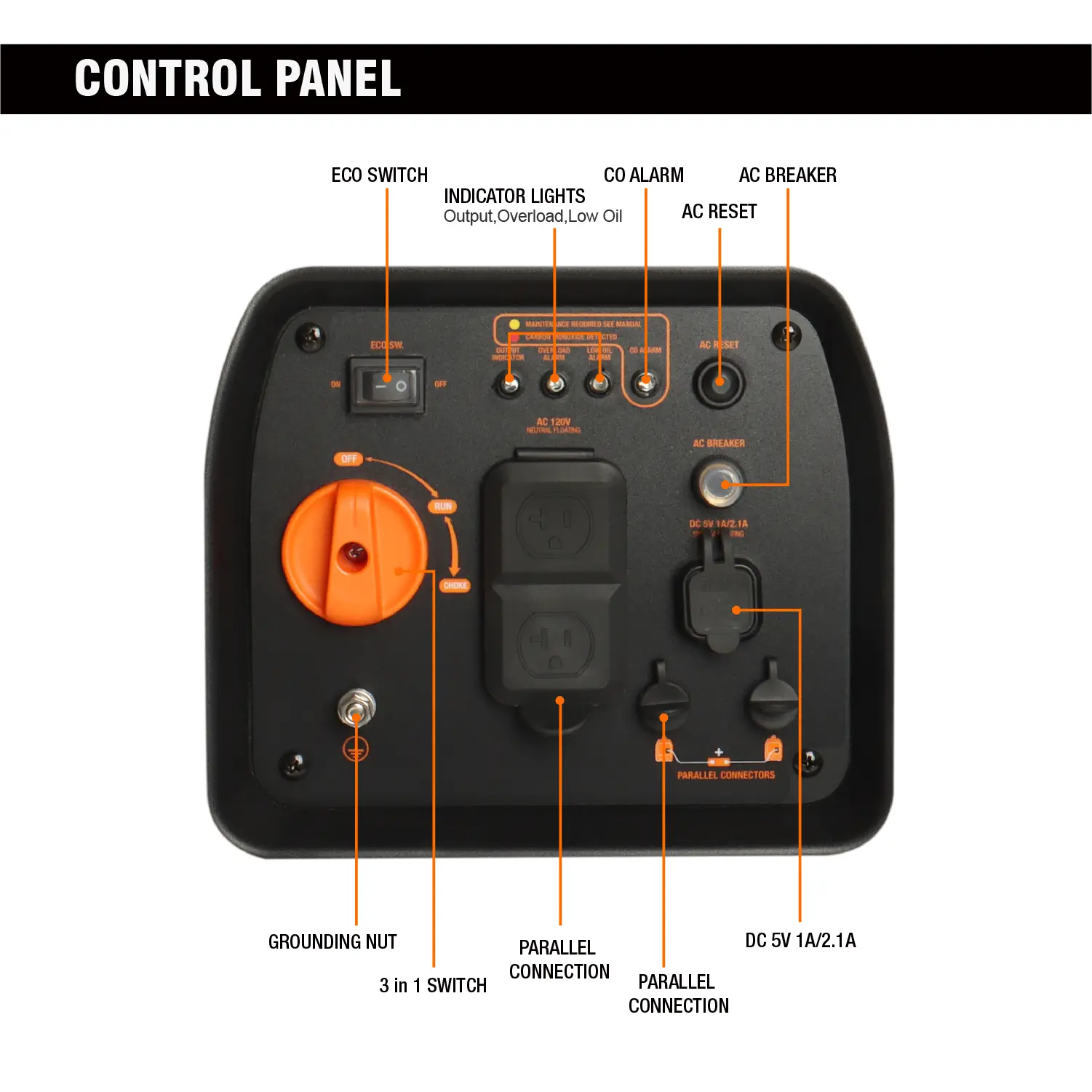 Hot Comments - Amazon